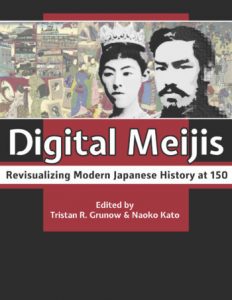 By Rie Namba on May 21, 2019
Category:Uncategorized
The Meiji at 150 Project (hosted by the Centre for Japanese Research, Department of History, and Department of Asian Studies) created an open monograph of visual essays co-edited by Tristan R. Grunow and Naoko Kato.
By Rie Namba on May 21, 2019
Category:Uncategorized
This is a list of the UBC faculty and staff using the Open Science Framework (OSF) to share their projects openly.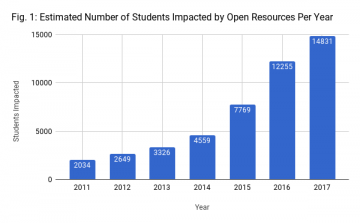 By Rie Namba on January 3, 2019
Category:Uncategorized
In 2018, UBC published a new
Strategic Plan
that articulated the intention to expand the creation and dissemination of open educational resources as well as recognized the contributions that UBC faculty, student and staff have made in this area. These contributions have had a significant impact: in academic year 2018, an estimated 15,388 students were impacted by courses using open resources in place of paid textbooks or readings. This replacement of traditional textbooks with open resources has potentially saved UBC students an estimated $1.5 to $2.3 million dollars this academic year. The wide diversity of UBC open education initiatives and efforts, from strong AMS advocacy and innovative instructor efforts to increased strategic support and funding, is helping to ensure that the adoption and use of open resources continues to be a significant practice at UBC.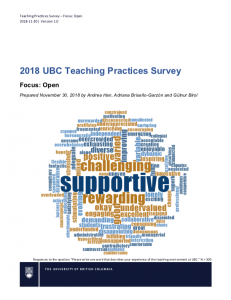 By Rie Namba on December 6, 2018
Category:Uncategorized
In order to better understand faculty teaching practices, attitudes about teaching, and perceptions of the teaching climate at UBC's Vancouver and Okanagan campuses, UBC conducted a 2018 Teaching Practices Survey earlier this year. UBC has now released a mini report that examined whether instructors require students to obtain textbooks (or other texts) and/or other digital learning materials.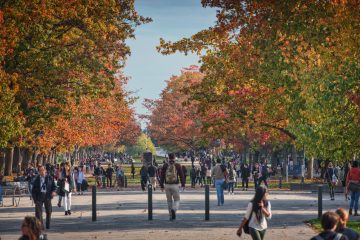 By Rie Namba on October 10, 2018
Category:Uncategorized
As part of Open Access Week in late October, UBC will be hosting diverse events highlighting areas of open scholarship in which UBC's faculty, students and staff participate.

By Rie Namba on July 24, 2018
Category:Uncategorized
UBC geography professor Siobhán McPhee is using technology to expand traditional learning spaces and make education accessible and relevant to more students.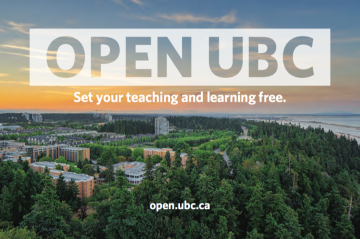 By Rie Namba on July 3, 2018
Category:Uncategorized
UBC Open Dialogues are a series of videos and articles where UBC faculty, students, and staff discuss and reflect upon their open practices and approaches. Topics include how to do open courses, how to make open content accessible, how to practice responsible pedagogy, how to rethink textbooks, how to engage the general public, and more.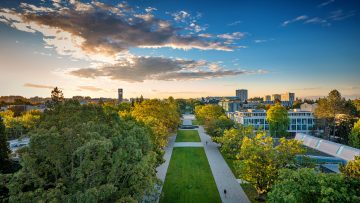 By Rie Namba on May 29, 2018
Category:Uncategorized
UBC's Teaching and Learning Enhancement Fund was created in 1991 to enrich student learning by supporting innovative educational enhancements. Starting in the 2017/2018 cycle, a focus on open educational resources (OER) was added to the criteria for new proposals.