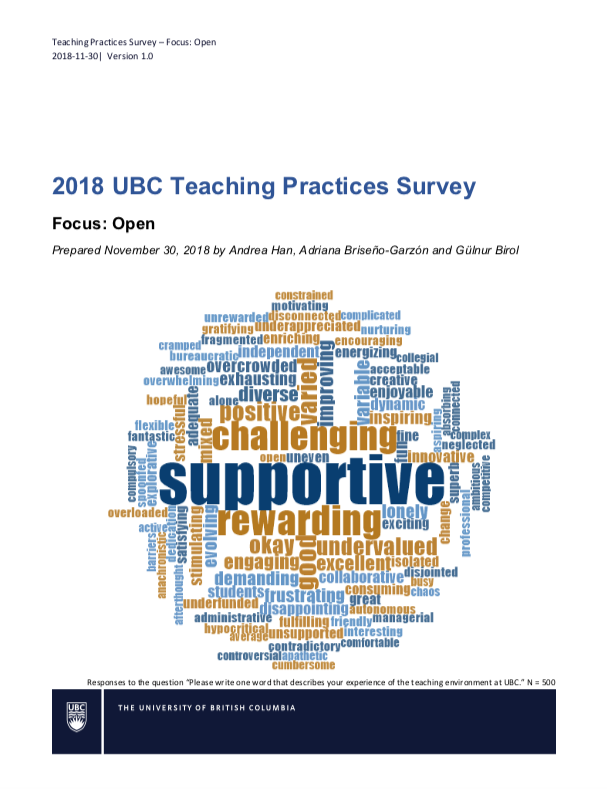 In order to better understand faculty teaching practices, attitudes about teaching, and perceptions of the teaching climate at UBC's Vancouver and Okanagan campuses, UBC conducted a 2018 Teaching Practices Survey earlier this year. UBC has now released a mini report that examined whether instructors require students to obtain textbooks (or other texts) and/or other digital learning materials. According to the survey, 67% of respondents "expect students to use digital resources, other than a textbook, that are freely available" (emphasis added).
UBC ran the Teaching Practices Survey in 2014 and in 2018 to better understand how individuals with teaching responsibilities structure learning for students and to offer an opportunity to participants to provide confidential feedback on their perceptions of the teaching climate at UBC. Responses from the survey are used to inform strategic priorities and service offerings, as well as to assess change that could be attributed to institutional initiatives.
The 2018 questionnaire was a streamlined and updated version of the 2014 questionnaire where redundancies were removed, difficult-to-interpret questions were either reworded or eliminated, and extra questions were added to inform university initiatives, including about Open UBC.