Stories from the community, statistics, events, and all about Open. Want to contribute? Let us know.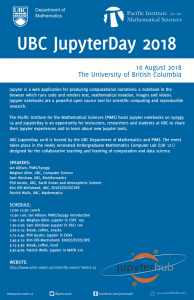 By Will Engle on August 8, 2018
The Pacific Institute for the Mathematical Sciences (PIMS) and UBC Department of Mathematics invite you to UBC JupyterDay 2018! Jupyter is an open web application for producing computational narratives: a notebook in the browser which runs code and renders text, mathematical notation, images and videos. JupyterDay is an opportunity for instructors, researchers and students at UBC to share their Jupyter experiences and to learn about new Jupyter tools.

By Abigail Saxton on July 24, 2018
In a media-rich world, UBC geography professor Siobhán McPhee is using technology for her students' advantage. In collaboration with students and the university's Emerging Media Lab, McPhee developed an app utilizing augmented reality to create an urban history tour of Vancouver's historic Chinatown and Downtown Eastside neighbourhoods following the influence of the Canadian Pacific Railway […]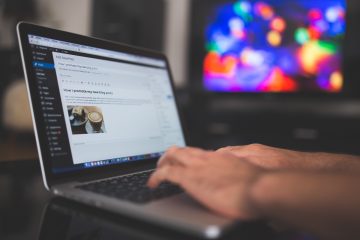 By Will Engle on July 17, 2018
If you are preparing resources for your teaching, from PowerPoint slides to online modules, chances are you'll want to incorporate readings, images, video clips, problem sets, or other materials from different sources. This session will focus on the pragmatic elements of reuse, the essentials of copyright, and the basics of working with open educational resources that are licensed to allow revision and reuse. Such openly-licensed resources can impact teaching and learning through contextualization, time savings, and lowering student access barriers such as costs. Please bring your questions and join us in exploring UBC's Copyright and Fair-Dealing guidelines and how copyright intersects with effective teaching practices.
For more information, please visit
the workshop registration page
.

By Heather McCabe on June 11, 2018
Call for Letters of Intent for Undergraduate Program Evaluation and Renewal projects and Large Teaching and Learning Enhancement Fund Transformation projects. Proposals that address the creation or integration of open educational resources to make education more affordable and accessible to students are especially welcome.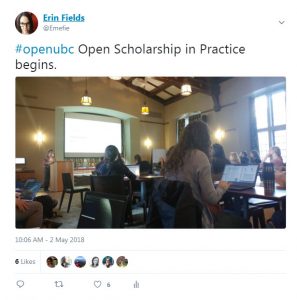 By Zachary Foote on June 6, 2018
During the 2018 Open Scholarship in Practice Symposium, held May 2 in the Irving K. Barber Learning Center, scholars from across UBC spoke to the current progress – and intimated the future possibilities – of open knowledge initiatives on campus. The morning keynote panelists took turns describing the respective roles researchers, instructors, and librarians play […]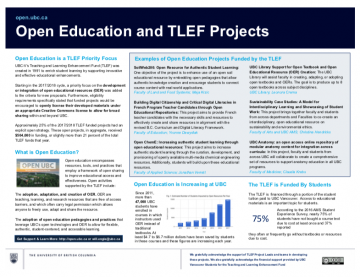 By Will Engle on May 29, 2018
UBC-Vancouver's
Teaching and Learning Enhancement Fund (TLEF)
was created in 1991 to enrich student learning by supporting innovative and effective educational enhancements. Starting in the 2017/2018 cycle, a
priority focus
on the development or integration of open educational resources (OER) was added to the criteria for new proposals.

By Abigail Saxton on April 9, 2018
Students in the Faculty of Forestry are no strangers to producing engaging content surrounding natural resources management — the medium is changing though. Janette Bulkan, Assistant Professor for Indigenous Studies in the Faculty of Forestry, is initiating student-led projects on the
UBC Wiki
, an open-source platform, to facilitate students as producers of knowledge.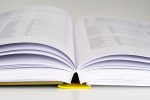 By Will Engle on April 9, 2018
Open scholarship, which encompasses open science, open access, open data, open education, and all other forms of openness in the scholarly and research environment, is transforming how knowledge is created and shared. Join us for a full day of hands-on workshops.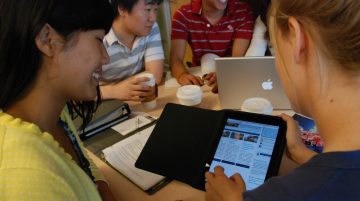 By michelle blackwell on February 21, 2018
UBC Library to support faculty in creating open textbooks and open educational resources through 1-year grant project
By Will Engle on February 16, 2018
Open Education Week, March 5-9, 2018, is an international event whose goal is to highlight how open education can help people meet their goals in teaching and learning. Each year, as part of Open Education Week, UBC showcases diverse events highlighting areas of open teaching and learning. These events include discussion forums, lectures, seminars, workshops, […]