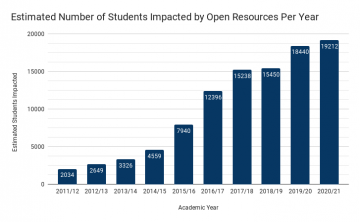 By Will Engle on May 10, 2021
Category:Open UBC Snapshot, Reports, UBCV, Updates
The 2020/21 academic year brought a transition to remote learning and delivery of online courses. This transition, due to the COVID-19 pandemic, exposed the importance of student ease of access to textbooks and other course materials. In 2020/21, an estimated 19,152 students enrolled in courses using OERs in place of paid textbooks or readings. One […]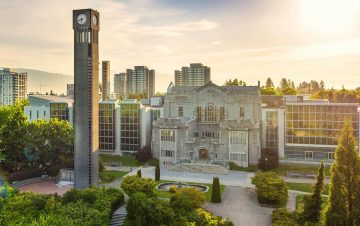 By Erin Fields on May 7, 2021
Category:Reports, Slider, UBCO, UBCV, Updates
UBC Library's open education supports play an active role in moving forward UBC Library's Strategic Framework vision to be leaders and experts in open scholarship.

By Rie Namba on June 3, 2020
Category:Reports, UBCO, UBCV, Updates
A brief open education impact and activity report from UBC Library for September 2019-April 2020.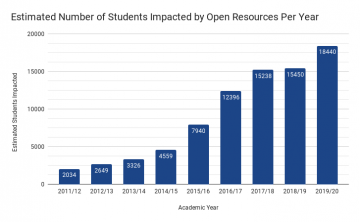 By Will Engle on March 9, 2020
Category:Open UBC Snapshot, Reports, UBCV, Updates
In the 2019/20 academic year (September 2019 to April 2020), an estimated 18,440 students enrolled in courses using open resources in place of paid textbooks or readings. This replacement of traditional textbooks with open resources has potentially saved UBC students an estimated $1.8 to $2.5 million this academic year.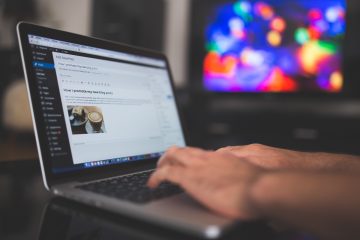 By Christina Hendricks on May 24, 2019
Category:Reports, UBCV, Updates
In May 2018, the UBC Vancouver Senate Teaching and Learning Committee presented to the UBC Vancouver Senate, as a topic of "broad academic interest," about fees for access to digital learning materials that are used for assessment. Guidelines relating to cost and use of digital materials for assessment purposes exist for post-secondary institutions in Alberta […]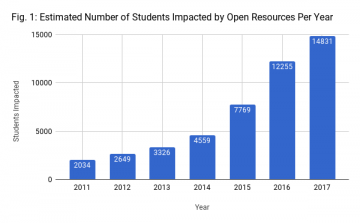 By Will Engle on January 3, 2019
Category:Open UBC Snapshot, Reports, UBCV, Updates
In 2018, UBC published a new Strategic Plan that articulated the intention to expand the creation and dissemination of open educational resources as well as recognized the contributions that UBC faculty, student and staff have made in this area.In academic year 2018, an estimated 15,388 UBC students were impacted by courses using open resources in […]
By Will Engle on December 6, 2018
Category:Open UBC Snapshot, Reports, UBCV, Updates
In order to better understand faculty teaching practices, attitudes about teaching, and perceptions of the teaching climate at UBC's Vancouver and Okanagan campuses, UBC conducted a 2018 Teaching Practices Survey earlier this year. UBC has now released a mini report that examined whether instructors require students to obtain textbooks (or other texts) and/or other digital learning […]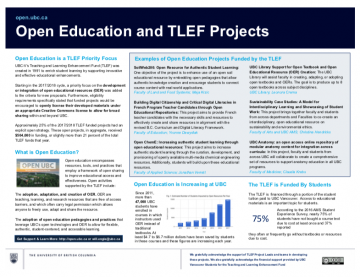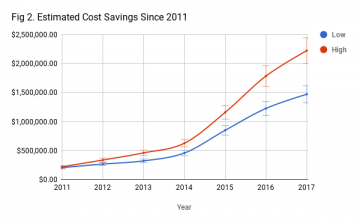 By Will Engle on January 9, 2018
Category:Reports, UBCV, Updates
In 2017, the adoption and use of open resources at UBC continued to increase. Since 2011, more than 47,000 UBC students have enrolled in courses in which instructors used open or freely accessible resources instead of traditional textbooks. At least $4.7 to $6.7 million dollars have been saved by UBC students in these courses and […]